About the Book
101 Lessons To Be A Damn Good Speaker by Author Deepshikha Kumar is a self-help guide for everyone who dreams of enthralling a crowd with the power of speech. This book offers practical advice, tips, and guidelines that can be applied in real life scenarios to improve your public speaking skills!
Be it a work presentation, a family function, or even an impromptu speech, the lessons from this book will help you captivate audiences and steal the spotlight anytime, anywhere!
Written for beginners and seasoned speakers alike, 101 Lessons To Be A Damn Good Speaker will provide readers with real-time lessons, learnings, insights and takeaways from India's largest network of speakers and experts.

Impactful Content
What you say matters. The best speakers are those who have lived their journey and bring their personal experiences to the stage.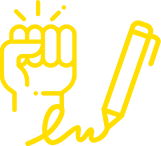 Powerful Delivery
Practice the tone of delivery. It's mostly how you say it that matters more.

YOUR Brand Persona
Do not compromise on your only product – YOU! Don't be shy of sharing what drives you.
Reviews
An incredibly insightful, thoughtful, and detailed analysis of everything that goes behind a successful stage act. An essential read for leaders who wish to connect to their people better.
- Vinod K. Dasari, Managing Director & CEO, Ashok Leyland
Brilliantly explained. A concept which has never been more relevant than today.
Suresh Mahalingam, Board Member Aviva india
This is a must read for anyone trying to connect to an audience. Makes your personal brand and speech 10x more impactful
John K Paul, Former President, FADA
It's not just a book, its an irresistible page turner with illustrations which take the reader on a fun filled journey.
Aarti Gupta, CIO, DBR Ventures
This book teaches you to be a brilliant speaker to the point.
Navin Philip, Director, Popular Vehicles